MCSTO IPB University-ForMIND International Conference
Terakhir diubah pada 22 September 2019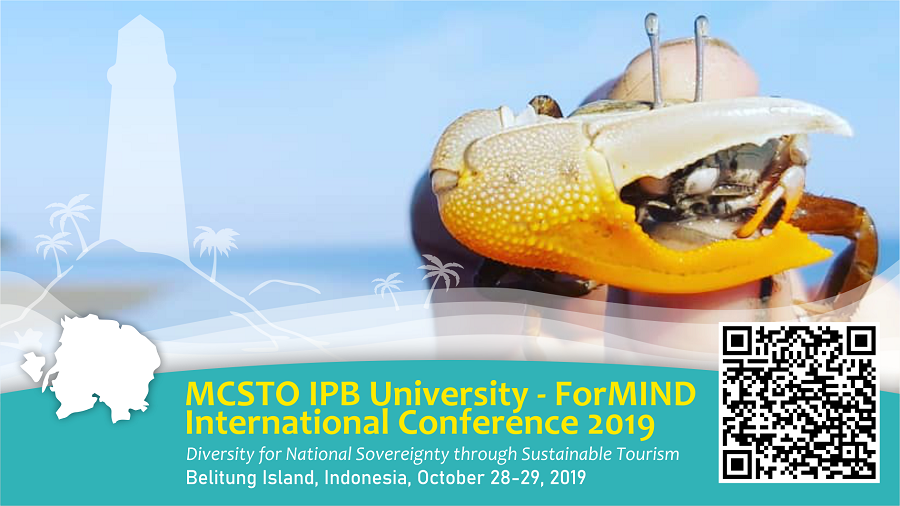 MCSTO IPB University-ForMIND International Conference 2019
Dear Colleagues,
We are delighted to invite you to MCSTO IPB University-ForMIND International Conference 2019 which will be held in Belitung Island, Indonesia on October 28-29, 2019. The conference that organized by MCSTO IPB University, ForMIND, I-4, and ALMI has a theme of Diversity for National Sovereignty through Sustainable Tourism. The conference will bring the participants the opportunity to gain insight into recent research finding and to strengthen the friendship. In addition, the conference will provide a number of networking opportunities to help establish a strong collaboration between the participants as well as a trip to Belitung Island.
We invite you to attend an exciting scientific program comprising oral sessions with talks from Engineering, Life Sciences and Social Sciences, multiple poster sessions, luncheons, and networking events. Moreover, we have planned a range of social activities, including a welcome reception and excursion to some natural spots in Belitung Island.
Footnote:
MCSTO (Monitoring Center Sustainable Tourism Observatory) IPB University, a program of Indonesian Ministry of Tourism [More]; ForMIND (Forum Peneliti Muda Indonesia) [More]; I-4 (Ikatan Ilmuwan Indonesia Internasional) [More]; ALMI (Akademi Ilmuwan Muda Indonesia) [More]
Event
Scientific Meeting

Keynote Speakers*: Regent of Belitung Regency, Rector of IPB University, Indonesian Ministry of Tourism
Oral Presentation
Poster Presentation

Commemoration of Sumpah Pemuda in Gusong Bugis Beach
Excursion: a trip to Belitung, a hidden paradise in Indonesia (destination: Mie Belitung, Tanjung Kelayang Beach, Tanjung Tinggi Beach, Mangrove Kuale, Peramun Hill)
*to be confirmed
Researchers in academia, government, industry, and others working in the field are invited to submit abstracts for oral and poster presentation in the following themes:
​​​Engineering Sciences Engineering and its application in Physical, Biological, Chemical, Pharmaceutical, and Medical Sciences
​Social Sciences Economics, Education, Law, Psychology, Political Sciences, Humanities, Art and Culture, Language and Linguistics
Life Sciences Biodiversity, Biosystematics, Ecology, Genetics, Biotechnology
Poster presenter should bring his/her poster to the conference. The poster size is A1 (portrait).
Registration
We are welcoming the participants without abstract, oral presentation, and poster presentation.
Registration link: Click Here (A Google Account is needed, dateline: 30 September 2019)
Expected participants: 50 persons
Registration Fee**: IDR 2.500.000 / USD 200
** What does the registration fee include? We provide breakfast, lunch, and snacks and beverages throughout the day as well as hotel and local transportation expenses. Airfare and transportation to the site are not included.
Payment Proof of payment needs to be delivered through the registration link.
IDR Beneficiary: Puji Rianti (Bank Mandiri 1330010055986, BCA 6610525626)
USD PayPal or
Venue and Transportation
The conference will be held at Grand Hatika Hotel, Tanjung Pandang, Belitung Island. To get to the venue, take a flight from Jakarta (CGK) or Kuala Lumpur (KUL) to Tanjung Pandan (TJQ). The committee will arrange transportation from the airport to the venue.
MCSTO IPB University
Based on Surat Tugas No 9511/IT3/KP.03.03/2019, Vice-Rector for Collaboration and Information System of IPB University delegates Hirmas Fuady Putra S.Si., M.Si., Dr. Puji Rianti S.Si, M.Si, and Dr. Kanthi Arum Widayati S.Si, M.Si as the implementing team of MCSTO (Monitoring Center Sustainable Tourism Observatory) Program in Tanjung Kelayang, Belitung.
Here is the list of activities:
April 2019: Survey of Tanjung Kelayang Ecotourism Potential
26 July 2019: Enhancing Tourist Experience through Digital Tourism Workshop
27 July 2019: Focus Group Discussion: The Development of Sustainable Tourism in Belitung
22-26 Oct. 2019: International Summer Course 2019: Sustainable Tourism in Belitung: the Role of Diversity for National Sovereignty LINK
28-29 Oct. 2019: MCSTO IPB University-ForMIND International Conference 2019 LINK