Last modified at 14 February 2019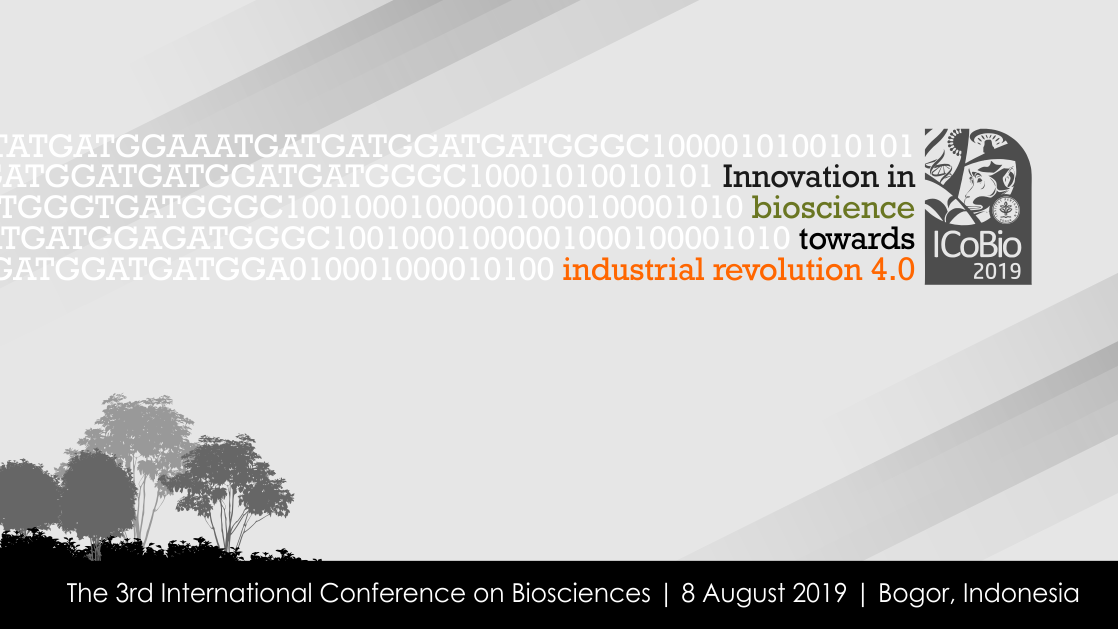 International Conference on Biosciences (ICoBio)
The International Conference on Biosciences (ICoBio) is a biannually scientific event held by the Department of Biology.
The 3rd ICoBio 2019
Theme: Innovation in bioscience towards industrial revolution 4.0
Date: Thursday, 8 August 2019 in Bogor, Indonesia
Committee: Department of Biology, Bogor Agricultural University (email: icobio@apps.ipb.ac.id)
Introduction
It is undeniable that Biosciences play a pivotal role in every aspect of life. Currently, biosciences have been translated into various inter and trans-disciplinary fields which in turn lead to practical solutions to global issues occurs in the disruptive era of industrial revolutions 4.0. Indeed, today we are facing serious issues including food and feed security, energy scarcity, the healthcare issue, global warming, and others. Integration of biological field with engineering, information technology, economy, and social, sciences may serve as potential strategies to combat such challenging issues. As part of the global scientific communities, Department of Biology, IPB facilitates researcher, practitioners, students, academicians related to the field of biosciences worldwide to gather and share information, ideas, knowledge, and research results on the 3rd ICoBio, held on 8 August 2019. ICoBio will serve a fruitful atmosphere of scientific meeting that represents our best efforts in facing today`s challenging issues.
Important Dates
Abstract Last Submission: Saturday, 1 June 2019
Accepted Abstract Announcement: Tuesday, 2 July 2019
Early Registration: Tuesday, 9 July 2019
Late Registration: Tuesday, 16 July 2019
Full Paper: Tuesday, 23 July 2019
Conference: Thursday, 8 August 2019
Speakers
Keynote Speakers

Prof. Satryo Soemantri Brodjonegoro, Akademi Ilmu Pengetahuan Indonesia (AIPI): The Development of Innovation System in Indonesia
Antonio Costa de Oliveira Ph.D., Universidade Federal de Pelotas, Brazil: Biotechnology in Crops to Overcome Environmental Challenges

Invited Speakers

Prof. Dr. Ahmad Ismail, FASc, Universiti Putra Malaysia, Malaysia: Wildlife Conservation
Dr. Chatchawan Jantasuriyarat, Kasetsart University, Thailand: Oil palm genetics (Using genetic and Genomic to shorten the micropropagation of oil palm)
Dr.Ir. Iman Rusmana M.Si., Department of Biology, IPB University, Indonesia: Environmental Technological Microbiology
Prof. Jun Kohyama, Keio University, Japan: Utilizing Stem Cells for Innovation in Biomedical Fields
Dr. Martyna M. Kotowska; Georg-August-Universität Göttingen, Germany: Climate Change and Forest Disturbance
Call for Papers
Topics :
Biodiversity, Conservation ecology, climate change
Bioactive compounds, bioprospecting, drug discovery
Sustainable agriculture, farming technology
Industrial biology, bioprocess, biosensors
Techno-biology, bioengineering, epigenetics
Computational biology, bioinformatics, synthetic biology
Type of Presentation
Oral
Poster
Submission: LINK
Publication
Selected conference papers will be published in
Conference Fee
Participant
domestic (Rp)
overseas (USD)
early
late
early
late
Paper presentation and proceeding
student
1,000,000
1,250,000
100
125
non-student
1,500,000
1,750,000
150
200
Paper presentation, without proceeding
student
750,000
1,000,000
75
100
non-student
1,250,000
1,500,000
125
150
Without paper and proceeding
750,000
1,000,000
100
125