3rd National Webinar for Enriching Biological Concepts
18 June 2020
Last modified at 18 June 2020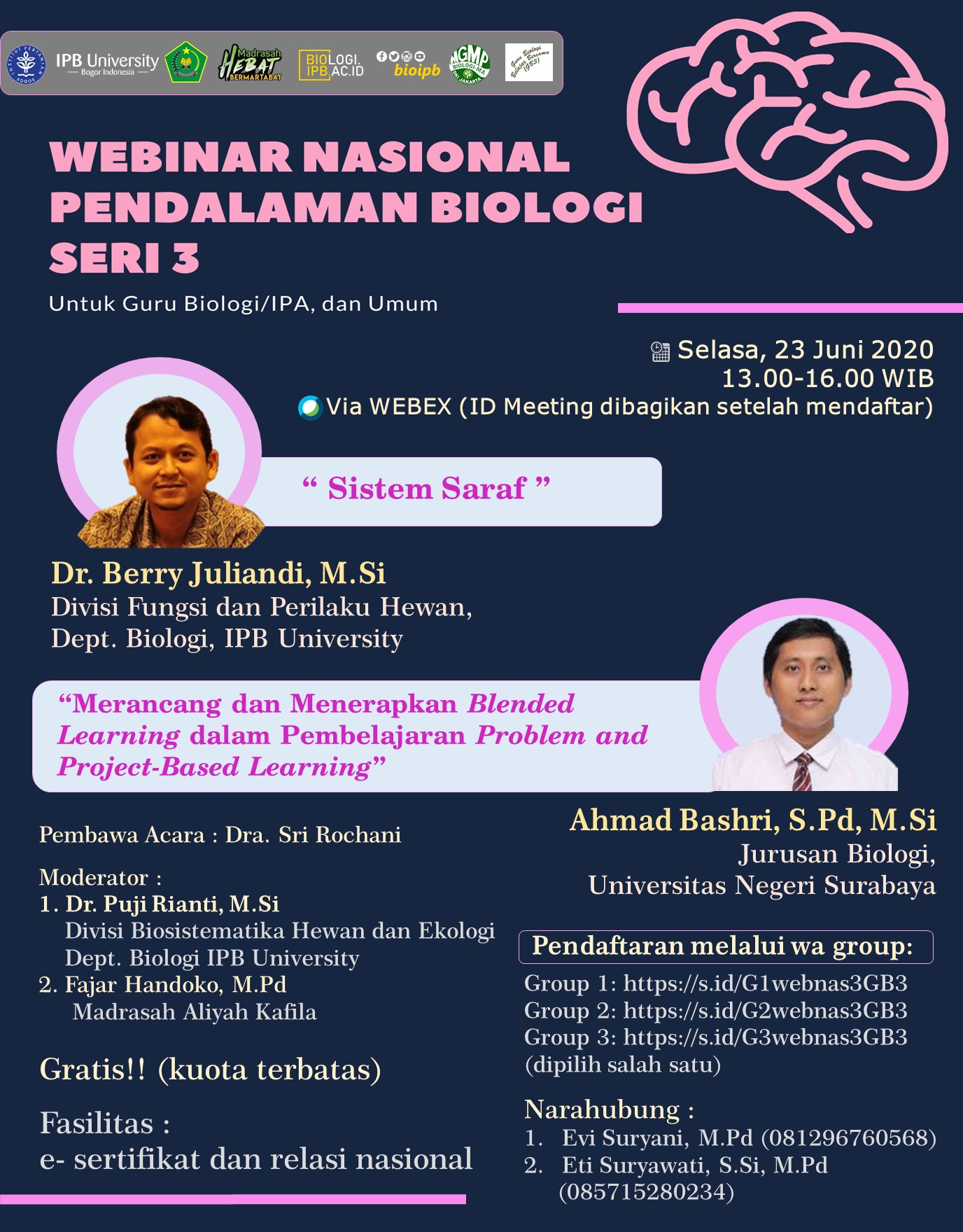 3rd National Webinar for Enriching Biological Concepts

For Biology/Natural Sciences Teachers, and General Audience
1st Topic : Nervous System
Speaker:
Dr. Berry Juliandi, M.Si
Animal Physiology and Behaviour, Dept. Biology, Faculty Mathematics and Natural Sciences, IPB University
2nd Topic : Desaigning and Applying Blended Learning in Problem and Project-Based Learning Class Activity System
Speaker:
Ahmad Bashri, S.Pd, M.Si
Biology Study Program, Universitas Negeri Surabaya
Date, Time and Media :
Tuesday, June 23 2020
01.00 - 04.00 pm
via Webex (ID Meeting will be informed after register)
free (for limited audiens)
Facility :
E-certificate and national networks
Registration :
Join Whatsaapp Group (choose 1 link below)
Grup 1:
https://s.id/G1webnas3GB3
Grup 2:
https://s.id/G2webnas3GB3
Grup 3:
https://s.id/G3webnas3GB3
For more infromation:
1. Evi Suryani, M.Pd (081296760568)
2. Eti Suryawati, S.Si, M.Pd (085715280234)
---------------------------------
this event held by collaboration between MGMP Biologi MA DKI Jakarta and Dept. Biologi, Faculty of Mathematics and Natural Sciences, IPB University.
Export Article
Share this article