4th National Webinar for Enriching Biological Concepts
4 July 2020
Last modified at 4 July 2020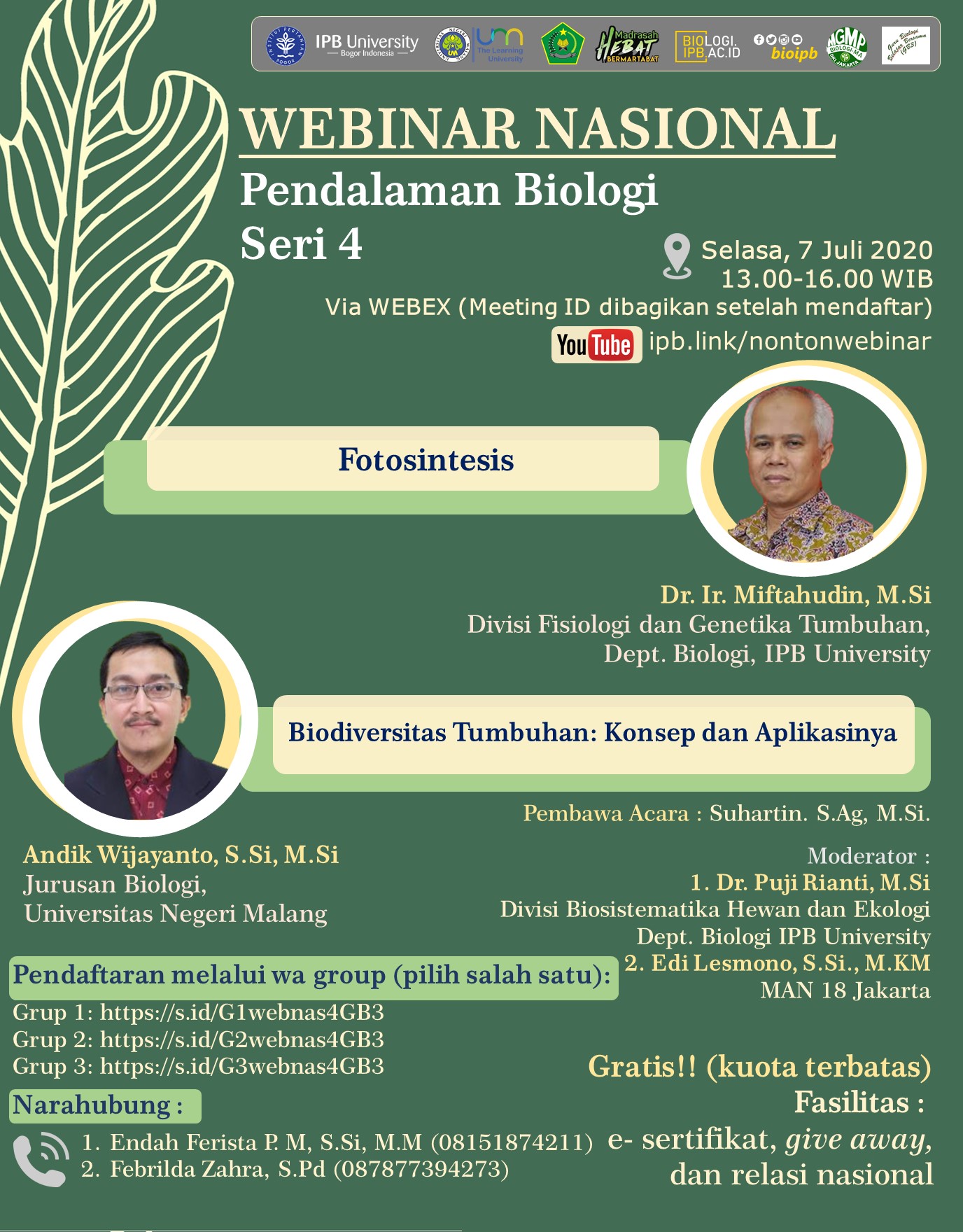 4th National Webinar for Enriching Biological Concepts
for Biology/Mathematics and Natural Sciences teachers, and General Audience
1st Topic : Photosynthesis
1st Speaker:
Dr. Ir. Miftahudin, M.Si
Division of Plant Physiology and Genetics, Dept. Biology, Faculty of Mathematics and Natural Sciences, IPB University
2nd Topic : Plant Biodiversity : Concept and Its Application
2nd Speaker :
Andik Wijayanto, S.Si, M.Si
Departement of Biology, State University of Malang
Time and Date:
Tuesday, July 7 2020
01.00 - 04.00 pm
Media:
1. Webex (Meeting ID will be informed after registered)
2. Youtube streaming :
a. ipb.link/nontonwebinar (bioipb channel)
b. https://youtu.be/lv1ynJ8ilss (GTK Madrasah channel)
Free (limited seat)
Facility :
E-certificate, give away, and national relation
Registration Form:
Join by Whatsaap Group (choose one)
1st Group :
https://s.id/G1webnas4GB3
2nd Group :
https://s.id/G2webnas4GB3
3rd Group :
https://s.id/G3webnas4GB3
For more information:
1. Endah Ferista P.M, S.Si, M.M (08151874211)
2. Febrilda Zahra, S.Pd (087877394273)
This event held by collaboration between MGMP Biologi MA DKI Jakarta and Dept. Biology, Faculty of Mathematics and Natural Sciences, IPB University.
Export Article
Share this article