5th National Webinar for Enriching Biological Concepts
20 July 2020
Last modified at 20 July 2020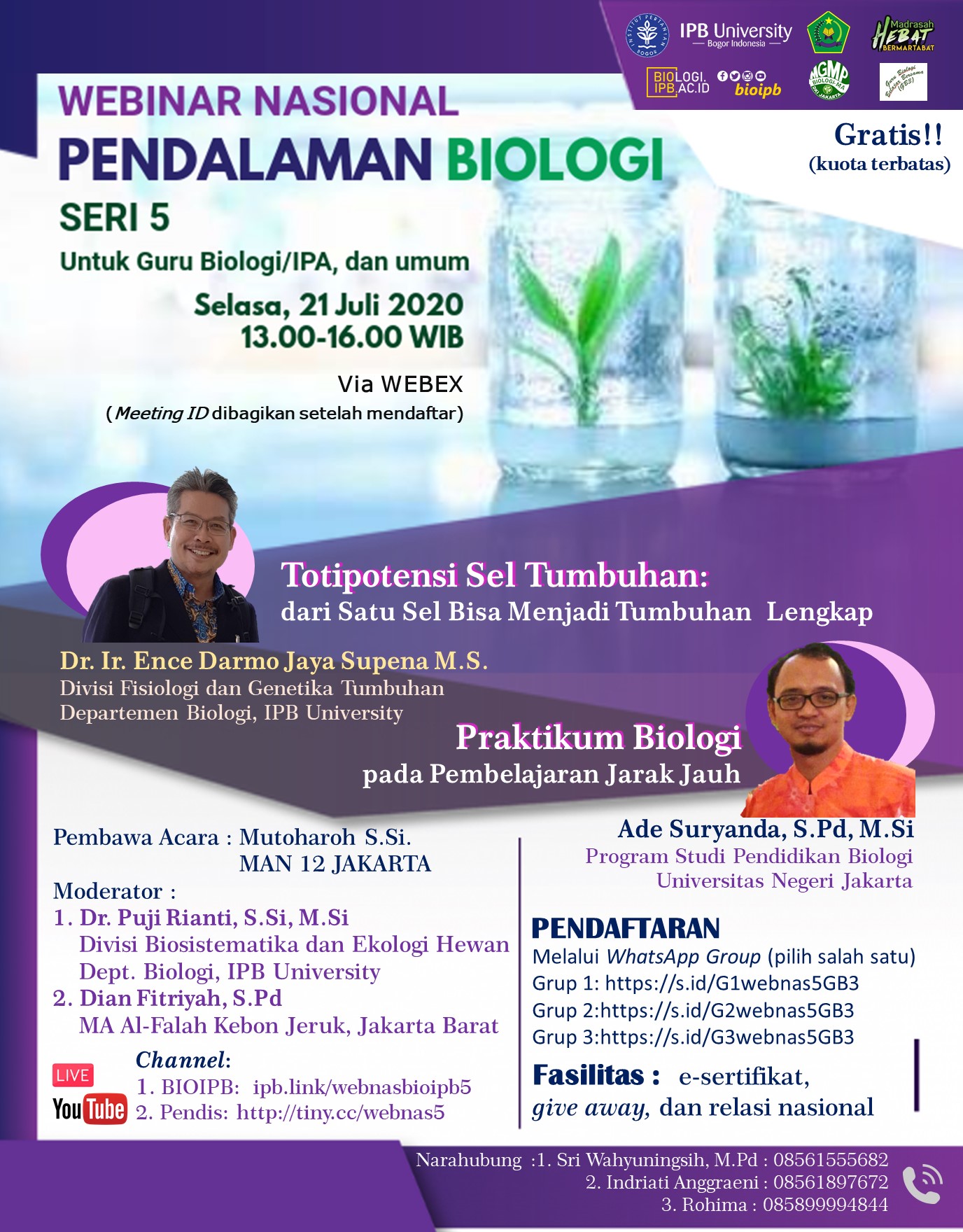 5th National Webianr for Enriching Biological Concepts

For Biology/Natural Sciences Teachers, dan General Audience
1st Topic : Plant Cell Totipotency: From One Cell Can Become a Complete Plant
Speaker:
Dr. Ir. Ence Darmo Jaya Supena, M.S
Division of Plant Physiology and Genetics
Department of Biology, Faculty Mathematics and Natural Sciences, IPB University
2nd Topic : Biology Practices in Online Learning
Speaker:
Ade Suryanda, S.Pd, M.Si
Biology Education Study Program, State University of Jakarta
Date and Time
Tuesday, July 21 2020
01.00 - 04.00 pm
Media:
1. Webex ( Meeting ID will be informed after registered)
2. Youtube Live Stream :
a. ipb.link/webnasbioipb5 (bioipb channel)
b. https://tiny.cc/webnas5 (Pendis channel)
Free (Limited Seats)

Facility :
E-certificate, give away, and national relation
Registration:
Join by whatsapp Group (choose one)
1 st Group :
https://s.id/G1webnas5GB3
2nd Group :
https://s.id/G2webnas5GB3
3rd Group :
https://s.id/G3webnas5GB3
For More Information:
1. Sri Wahyuningsih, M.Pd (08561555682)
2. Indriati Anggraeni : (08561897672)
3. Rohima (085899994844)

This event held by the collaboration between MGMP Biologi MA DKI Jakarta and Dept. Biology, Faculty of Mathematics and Natural Sciences, IPB University.
Export Article
Share this article