THE 4th SUMMER COURSE ON BIOLOGY 2021 AND INTERNATIONAL STUDENT COMPETITION
26 February 2021
Last modified at 30 August 2021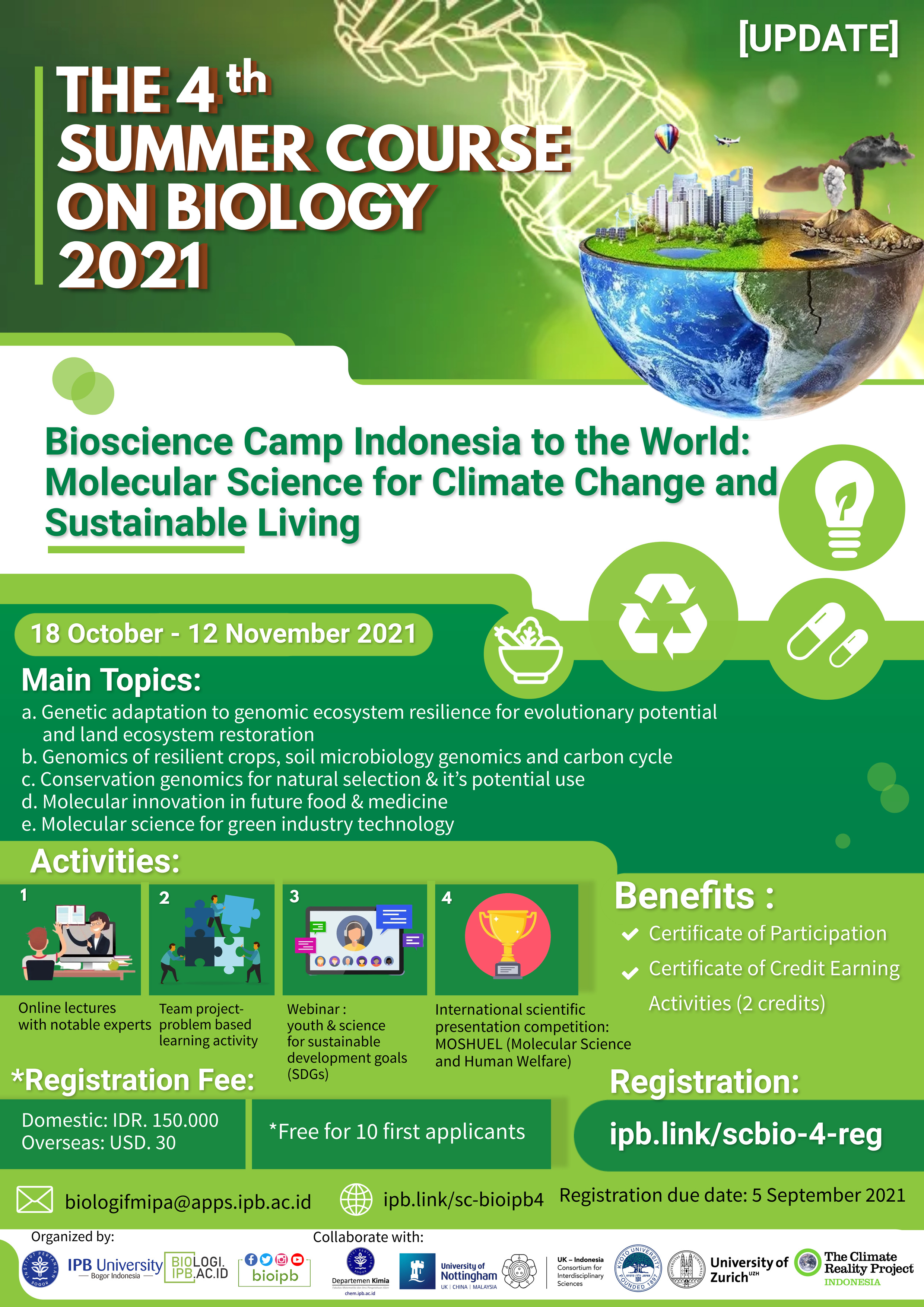 THE 4th SUMMER COURSE ON BIOLOGY 2021
Theme: Bioscience Camp Indonesia to the World: Molecular Science for Climate Change and Sustainable Living

Time : 18 October-12 November 2021
This program offers an opportunity for understanding about biological diversity in Indonesia, and molecular biosiences to reach sustainable development goals (SDGs), particularly for supporting zero hunger (2), good health and well-being (3), quality of education (4), affordable and clean energy (7), climate action (13), and conservation (14 and 15).


Main Topics:
a. Genetic adaptation to genomic ecosystem resilience for evolutionary potential and land ecosystem restoration
b. Genomics of resilient crops, soil microbiology genomics and carbon cycle
c. Conservation genomics for natural selection & it's potential use
d. Molecular innovation in future food & medicine
e. Molecular science for green industry technology

Activities:
a. Onine lectures with notable experts
b. Team project-problem based learning activity
c. Webinar : Youth & Science for sustainable development goals (SDGs)
d. International Scientific Presentation Competition : MOSHUEL (Molecular Science and Human Welfare)


Benefits:
1. Certificate of Participation
2. Certificate of Credit Earning Activities

Registration : ipb.link/scbio-4-reg (Due date : 5 September)
Registration Fee* :
Domestic : IDR. 150.000
Overseas : USD. 30

*Free for 10 first applicants

For more information : biologifmipa@apps.ipb.ac.id
This event was organized by Department of Biology, Faculty of Mathematics and Natural Sciences, IPB University, in collaboration with Department of Chemistry-IPB University, Nottingham University, Kyoto University, University of Zurich, and The Climate Reality Project Indonesia.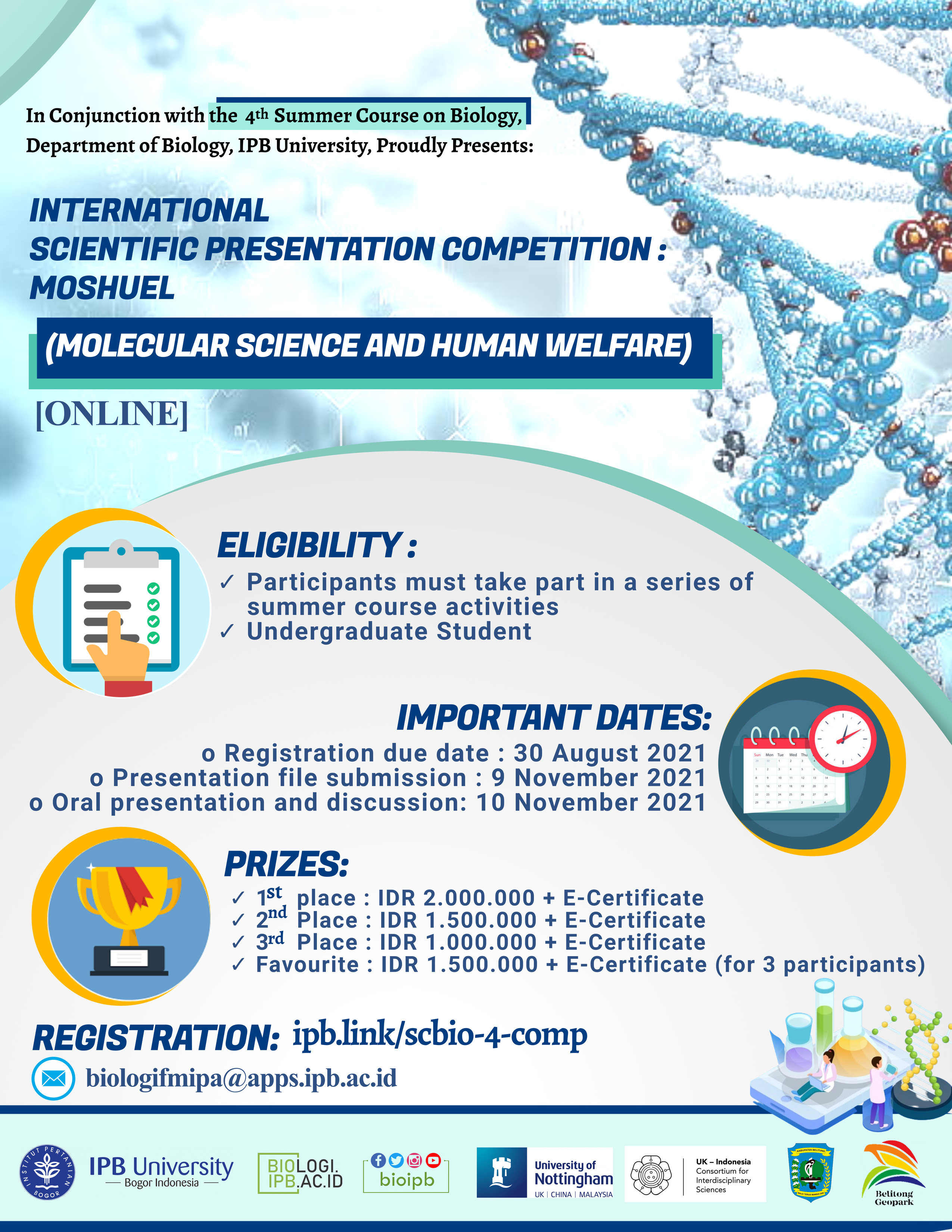 International Scientific Presentation Competition : MOSHUEL (Molecular Science and Human Welfare)
All highly ambitious students who will attend The 4th Summer Course on Biology 2021 are welcome to join The International Scientific Presentation Competition : MOSHUEL (Molecular Science and Human Welfare). Four best students will be selected as the winners.

Details of the competition, the guidelines, the prizes and important competition dates for your diary are outlined below.

Eligible Participants
---
✓ Participants must take part in a series of
summer course activities
✓ Undergraduate Student



Important Dates
---
Registration due date : 30 August 2021
Presentation file submission : 9 November 2021
Oral presentation and discussion: 10 November 2021
Prizes
---
1st place : IDR 2.000.000 + E-Certificate
2nd Place : IDR 1.500.000 + E-Certificate
3rd Place : IDR 1.000.000 + E-Certificate
Favourite : IDR 1.500.000 + E-Certificate (for 3 participants)


Important Link
---
Registration : ipb.link/scbio-4-comp

for more information : biologifmipa@apps.ipb.ac.id
Export Article
Share this article