IPB University Students Learn to Distinguish Hoax News
1 October 2021
Last modified at 1 October 2021
IPB University Students Learn to Distinguish Hoax News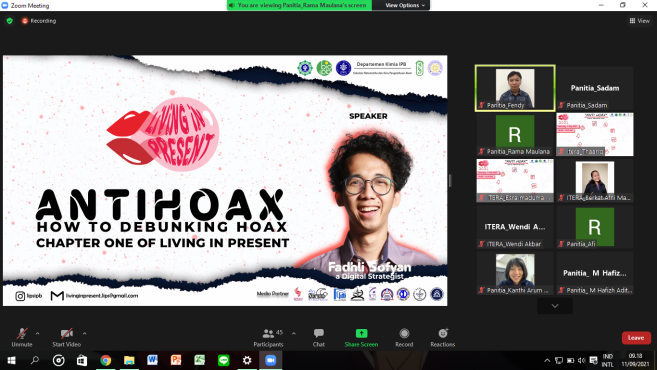 IPB University Biology Student Association and Chemistry Student Association held a webinar on Improving Softskill Living In Present (LIPS), 11/09. This webinar thoroughly explores Hoax which includes the definition of disinformation and misinformation, who spreads hoaxes, why and how hoaxes can circulate in the community, how to check the truth of the news, and how to deal with hoaxes.
The webinar invited Fadhli Sofyan, Digital Strategist from Kumparan. In his presentation, Fadhli explained the types of inaccurate information (hoax) and ways that can be done so that they are not easily consumed by hoaxes.
"When analyzing a news story, one must have skepticism, curiosity and try to verify the information we receive," said Fadhli.
He also said, "We must be able to identify which information is valid, which media are credible, and which sources we can trust and pay close attention to the source and content of the news."
He also added about matters related to dealing with hoaxes. Things that can be done such as checking the authenticity of photos, videos, and asking the truth of the information in the news to the experts concerned.
In this webinar, students are also trained to check the facts of the circulating news using a website or fact-checking application. Some sources and tools that can be used include the web from the Ministry of Communication and Information (Kemkominfo); checkfact.com; checkfact.tempo.co; hoax buster tools, turnbackhoax.id; snopes, eye hoax, and corona vaccine buster hoax by Kumparan. (*/RA) (IAAS/ADV)
Export Article
Share this article