Student Learned How to Build Personal Branding
1 October 2021
Last modified at 1 October 2021
Students Learned How to Build Personal Branding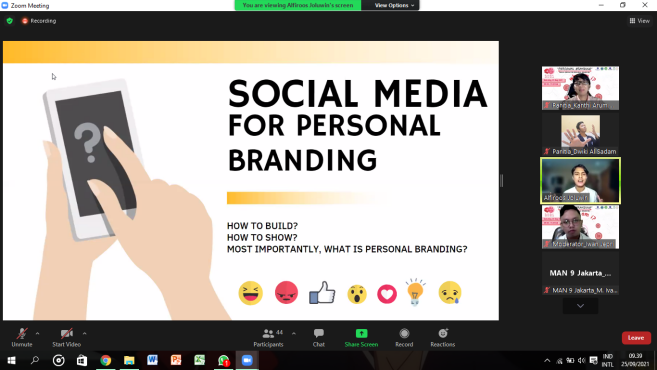 Department of Biology and Department oof Chemistry in collaboration with Biology Student Association and Chemistry Student Association, Faculty of Mathematic annd Natrual Sciences, IPB University held a webinar on Improving Softskill Living In Present (LIPS) Chapter 3 with theme Social Media for Personal Branding 9Saturday, 25 September 2021).

Alfiroos Joluwin, A Duta IPB Batch V was invited as a speaker in this event. He shared his experiences how to manage his social media profile for personal branding. in this opportunities, he is also shared tips and trick how to find a unique talent for each individual which potentially to be developed as a personal brannd.

Personal brand is an accumulation of achievements, characters, activity, personal look, and journey of an individual. A personal brand could not be developed in a short period, but it needs longer time to build it.

There are 5 ways to build our personal branding in social media. First, find and identifiy your talent. The second, improve that talent by joining training or other activities supporting your talent. Third, dont forget to sett your goals.The fourth, determine the social media platform that suitable for your band. the last, try to create a creative content and the way how to interact with your followers enggagingly.
Overall, this event was participated by student form IPB university, University of Indonesia, and Public Society. in the Last session, Deswita Aulia, a student from MAN 9 Jakarta give her opinion about this event "This event was so fantastics, and giving me more knowledge about how to build our personal branding".
Export Article
Share this article